Scuitto Lake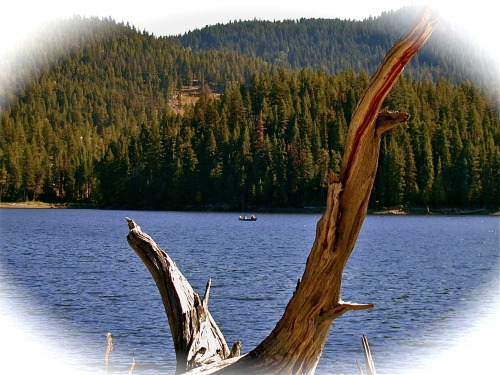 Scuitto Lake Anglers
---
Custom Search
---
General Information
Scuitto Lake, as it is today, is a "man made" lake. By that we mean that many years ago it was dammed for irrigation purposes. Prior to that the original lake would have been small, shallow, and with limited fishing opportunities - partly due to the shallowness and "winter kill".
With the dam in mind, the lake can fluctuate in it's water level considerably. However, during the spring when the fishing is best, the water level is substantial for some good fishing.
This is a lower elevation lake so it is one of the earlier lakes to "open" in the spring.
Most of the shoreline of this lake is on private land but so far, anglers and campers have been kindly permitted to launch and camp at this lake.
As a result of the previous damming of the lake, the lakeshore has some unique rock formations when combined with the old driftwood from the flooded forest, can make for some interesting photo opportunities.
---
---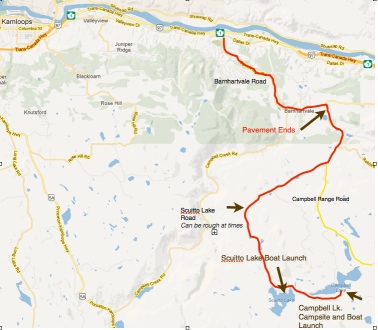 ---
Location & Access (Lat 50 34' 4.61" N / Long. 120 5'28.38"W)
See Campbell Lake as Scuitto Lake is accessed via the same road as Campbell. You will arrive at Scuitto Lake before you reach Campbell Lake. The two lakes are approximately only 10 minutes apart.
---
Facilities & Services
Boat Launch - Yes (good for boat trailer) Several unofficial launch sites. Careful of the rocks out deeper.

Camping - Yes, scattered unorganized sites

Waterfront or Lakeshore Camping - Some sites are a "stone's throw" from the water

Cell Coverage - Yes

Firepits - Not formal ones - be very very careful with open fires!

Garbage Collection - No (Please take all garbage home, including pieces of fishing line)

Outhouse - Yes

Picnic Tables - No

Resort - No
---
---
Boat Launch
There are several spots along the lake shore that can be accessed by vehicles. They vary in degrees of suitability depending upon if you have a boat trailer or are launching from a boat loader off the back of your pickup truck. The water level will also affect these launches as will the fact that sometimes anglers may locate their campsite in such a manner as to partially block and make access more difficult. ... but, there should still be at least one place where you can get to the lake.
---
This interesting photo of a snag does highlight another safety consideration. There are not many snags but do note that ANY of these snags and otherwise dead trees may fall over at ANY time! They may not require a wind to cause them to fall. ... and they have deadly potential!
Note the nice, openness of the grassed campsites. These are uncontrolled (people often camp where ever they wish) and most sites will NOT have proper campfire pits! Please be very careful with your open fires. You are at the fringes of the open grasslands of the Interior and sudden winds can occur at anytime!
---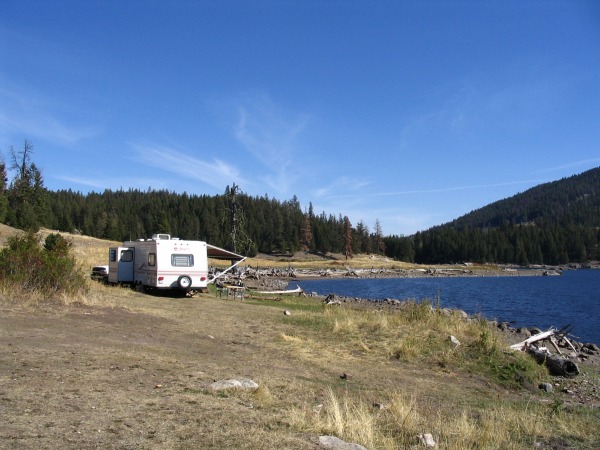 Note the whispy clouds above the trailer - they are indicating erratic, high winds, aloft. Those strong winds could very easily "touch down" over the Campbell / Scuitto Lakes area.
---
---
Interactive B.C. Weather Map - Google Maps