An Introduction to British Columbia's Interior Fly Fishing Lakes
"Hot Coffee" "...is a stimulant far more beneficial before hard work, than the same quantity of whiskey."
F.H. Buzzacott - 1908
---
---
The B.C. Freshewater Fishing Regulations section the province into eight fishing regulation Regions.
These are;
Region 1 - Vancouver Island
Region 2 - Lower Mainland
Region 3 - Thompson-Nicola
Region 4 - Kootenay
Region 5 - Cariboo
Region 6 - Skeena
Region 7A - Omineca Zone
Region 7B - Peace Zone
Region 8 - Okanagan
---
Custom Search
---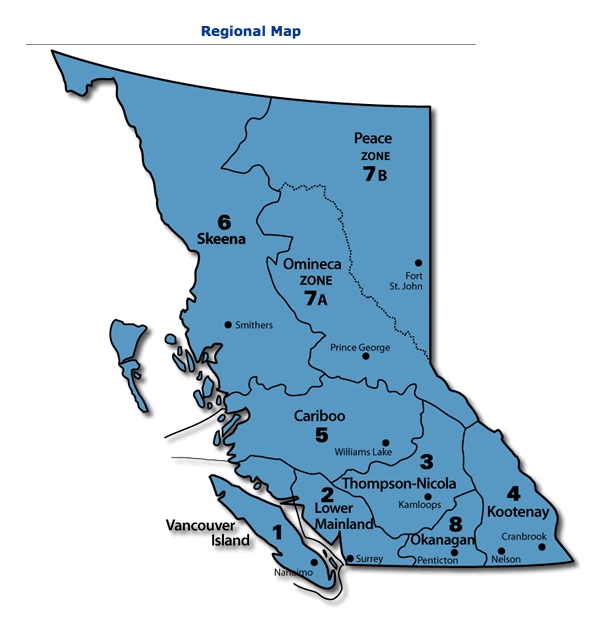 Province of British Columbia - Fishing Region Map
---
There are thousands of great fishing lakes in British Columbia. Two hundred or more of those are within a one hour drive from Kamloops alone. There are hundreds more in the Kootenays, Okanagan and Cariboo / Chilcotin regions of South Central British Columbia.
We would like to tell you about some of those lakes. (we cannot "cover" them all) One of our hopes is that as you learn about British Columbia's backcountry forests, mountains, lakes and streams, you will begin to understand how critical it is that we all take a role in becoming stewards of all these beautiful and pristine features in British Columbia.
We will show and tell you how to get to some of these places. We will tell you about the roads and whether or not you would want to take your 31' Winnibego in, or maybe just a pickup and camper. ... or, maybe just your 4 X 4 truck and a belly-boat.
Please drive these backroads with caution. One must assume all backroads may have active logging nearby and therefore logging trucks may be hauling on them. Be very careful of the edges of gravel roads as they may be soft and unstable, especially after periods of rain.
"Radio Controlled" logging roads are not really "controlled" at all. You, as a tourist are not expected to have a 2-way radio. The radio does help the forest workers to some degree but there are many documented cases where two "radio controlled" vehicles collided head-on, and some with fatal results! Just drive defensively. There is no forest worker who wants to be involved in a motor vehicle accident any more than you do.
Also of note - the Ministry of Forest's and Natural Resources, in cooperation with the B.C. Forest Safety Council, will be randomly monitoring forestry backroads with radar.
---
We hope this web site will help bring an awareness of some of the environmental and conservation issues in these current times. This site is for everyone who has an understanding and love of our great and so special, outdoors and the many activities we can enjoy there. ... fishing just being one of those sports.
---
This site may also feature some; CONTROVERSIAL ISSUES - (DID YOU KNOW THAT THE CANADIAN AND PROVINCIAL GOVERNMENTS ARE NOW PUTTING OUR RIVERS ON THE "BLOCK" TO BE SOLD!!! - CHECK IT OUT WITH YOUR LOCAL MP/MLA)
---
We hope to provide some possible solutions with your help; Some How To's; and Not To's; Outdoor lore from over 100 years past; Lots of photographs, and in general, we hope, a lot of useful information to let you better enjoy and be safe in our great outdoors.
---