Roche Lake
General Information
Roche Lake is the largest and most widely known of several great fly fishing lakes located within Roche Lake Provincial Park.  There are two campsites located on the lake as well as a full service resort.  Roche Lake Resort.  (seasonal operation)  Roche Lake has been used in the World Fly Fishing derbies and the best of the best, fish this lake. 
The lake is considered a mid-range elevation lake and is usually a fairly good producer most of the season.  There is a marked off area at the far end of the lake that is electric motors (or of course, ores) only.  
---
Location & Access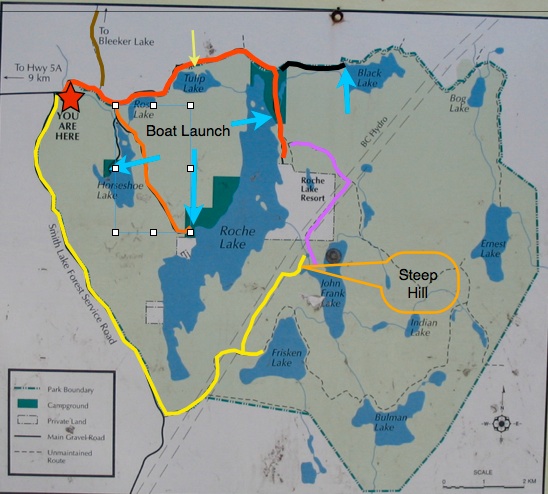 The sign board above is at the entrance to the park.
Red road - to main Roche Lake campground and Roche Lake Resort
Orange road - to Roche Lake West Campground
Brown road (upper left) - to Bleeker Lake (not in park)
Black road (upper centre) - to Black Lake
Purple road - to John Frank Lake
Yellow road - Frisken Lake and John Frank Lake
(once on the power line right-of-way, the may should be considered a 4 X 4 road)