Hosli Lake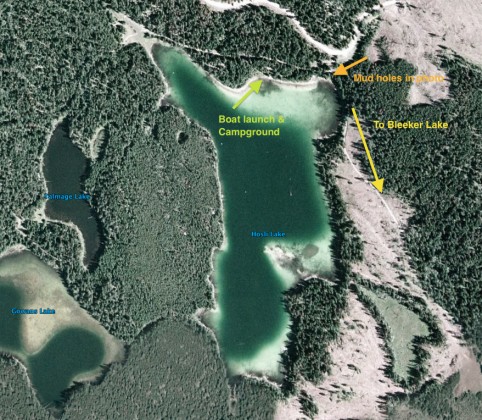 Above - showing Hosli Lake with the aid of Google Earth.

Left - shows the geographic relationship between Hosli and Bleeker Lakes.
---
Looking at boat launch at Hosli Lake to left of truck
---
Custom Search
---
General Information and Location
Lats & Longs - 50 31'35.33" N / 120 8'34.23" W
If you are travelling from Kamloops you leave the Trans Canada Hwy #1 at Exit #368 and turn right up the hill to the south onto what is normally called the Old Merritt Highway which is #5. This road is a good paved highway but it has a lot of curves, some rather sharp. There are a lot of freight trucks on this road (avoiding the government weigh scales and safety checks) so be alert. It is in our strong opinion that these large 18 wheelers should be banned from this highway (local traffic excepting) as there are considerable fatalities involving highway freight trucks along this road.
22.5 kms from Exit #368 - Willow Ranch on your left and Just around the corner from there is the turn-off to Roche Lake Resort which is where you turn. You are now on a good gravel road but expect wash-board and traffic.
7.4 kms off Highway #5 you will come to the Roche Lake Resort sign, watch for a road on your left. (.3 km farther along) When you turn left onto the Bleeker Lake Road travel 2.1 km to the Bleeker Lake Recreation site and boat launch.
Carry on past the recreation site and watch for an old car wreck (may have been removed now) at about 13.2 kms from the start of the Bleeker Lake Road.
Turn left up the hill. We travelled on this road approximately a month after rains. It was still showing signs of large ruts and mud holes. This is NOT a road for a car as you will require good ground clearance with your vehicle. This is a "dry" travel road only. You would want a good 4 X 4 and possibly even a winch if you felt you must fish Hosli no matter what. :)
---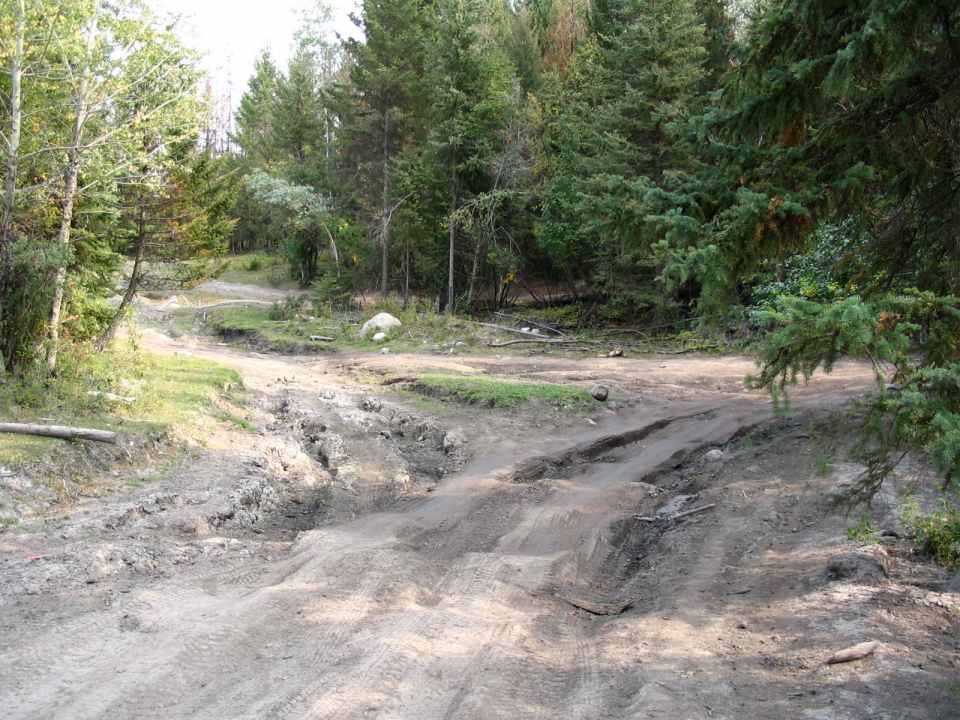 Example of large "mud holes" one month after no rain
Right fork goes to Bleeker Lake from Hosli Lake
---
Facilities & Services
Boat Launch - Yes (O.K. for a smaller boat trailer - if you get trailer to lake)

Camping - Yes

Waterfront or Lakeshore Camping - Close but not right on shore

Cell Coverage - No

Firepits - Yes - please ensure it is safe.

Garbage Collection - No (Please take all garbage home, including pieces of fishing line)

Outhouse - No

Picnic Tables - No

Resort - No, (Roche Lake Resort is the closest)
---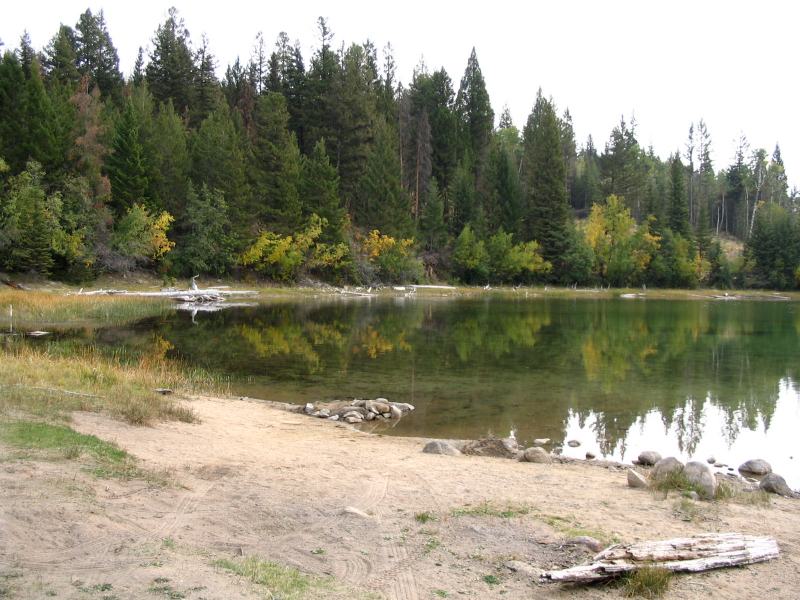 | | |
| --- | --- |
| | Campsite at Hosli Lake. Mostly flat, spaced out unorganized sites. |
---