Harper Lake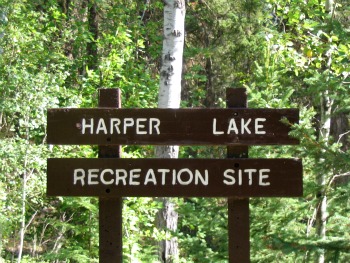 ---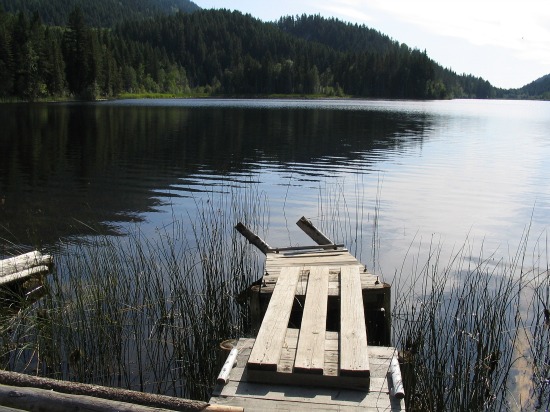 ---
Custom Search
---
General Information & Location
Harper Lake is a small lake located near Chase, B.C. If you were coming from Chase travelling west on the Trans-Canada Highway, you drive past the turn-off on your left to Chase Creek. Less than thirty seconds after passing the Chase Creek turn-off you will come to another turn-off also on your left. It will come up very quickly and almost immediately past a small outcropping of rock - again on your left. If you drive past the Neskonlith Indian Band's new sign, you will have driven too far.
If you are coming from the Kamloops direction thus travelling east, just watch for an Esso gas station on your right. (this will be approximately 25 - 35 min from Kamloops) Then watch for the Neskonlith Indian Band's tall, new sign also on your right. Keep going and watch for the next turn-off PAST the open field. From this short distance you will see your destination road leaving the highway and traversing the field at the edge of the hill, ahead of you on your right. That is the road to Harper Lake
You will climb steadily and eventually come to a wide cleared area that is a major gas pipeline crossing the road. Not far from this you will come to a "Y" where the left one looks well travelled. Do not take this left (and slightly upgrade) road as it leads to a ranch with a locked gate. Turning around with a trailer, at the locked gate may be quite difficult.
CAUTION
This road is narrow and there may be logging or farm trucks travelling on it at anytime.
One should also be prepared to cut fallen trees off the road as this road travels through large portions of dead pine trees which have been killed by the Mountain Pine Beetle infestation which has devastated millions of acres / hectares of forest in B.C.) A chainsaw would be a good item to carry with you at all times when traveling on any backroad in British Columbia. - if you are knowledgeable in how to safely operate one.
---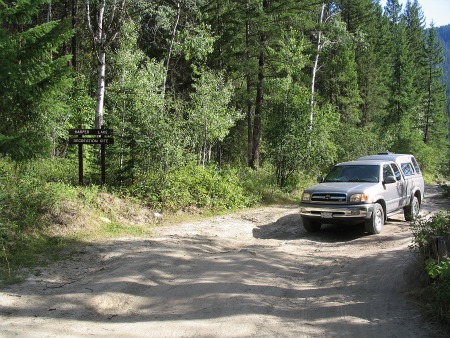 (Note the sign at centre / left of the photo) - this location is very near a fork in the road where you first arrive at the lake. Cell phones may work in this area but service is "spotty".
---
Facilities & Services
Boat Launch - Yes (O.K. for a smaller boat trailer)

Camping - Yes

Waterfront or Lakeshore Camping - Close but not right on shore

Cell Coverage - Spotty - Note above photo

Firepits - Yes - please ensure it is safe.

Garbage Collection - No (Please take all garbage home, including pieces of fishing line)

Outhouse - Yes

Picnic Tables - Yes

Resort - No, but Village of Chase is only twenty min. away.
---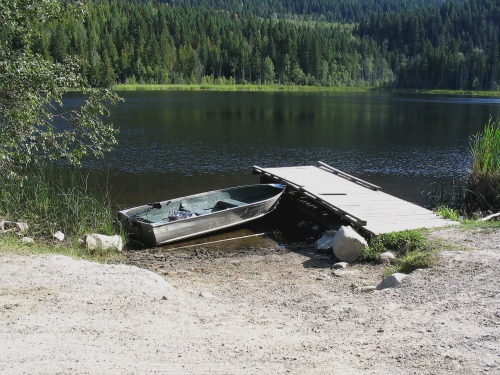 This is a small launch site directly across the road from the camping area. On weekends and holidays, this area could become congested and a wee difficult to maneuver your boat trailer. Arrive early!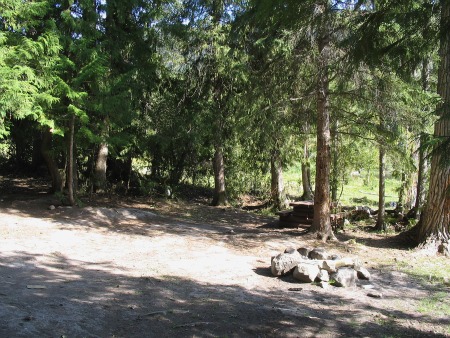 ---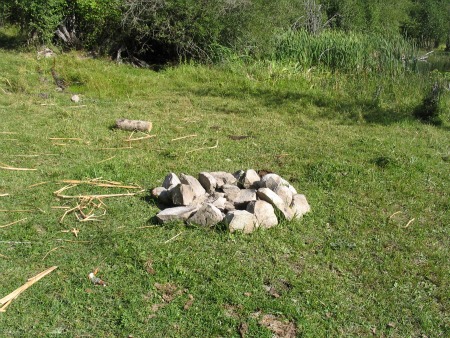 PLEASE! PLEASE! Do NOT ever build a fire in a firepit located such as this. That green grass will become very brown and crisp during the warm summer months. If there was an area (1 m) around the ring of rocks then this could be a very good fire pit.
---
Interactive B.C. Weather Map - Google Maps
---