Face Lake
---
Docks at Mile High Resort on Face Lake
---
Custom Search
---
General Information
This lake is very near Paska Lake. (.2 km further on) You will first arrive at a road junction whereby if you go straight you will enter Mile High Resort on Face Lake. The resort is a well run and maintained facility, with amiable owners. There is some R.V. camping and of course, cabins for rent. Their boat launch is available for a fee and parking is limited. Dogs are not permitted at this resort. (and even though we are dog owners, we do understand this "new" trend, as we have seen many irresponsible dog owners - who are now spoiling it for good dog owners - so come on people - of course, respect your animals, but also, respect everyone else too)
---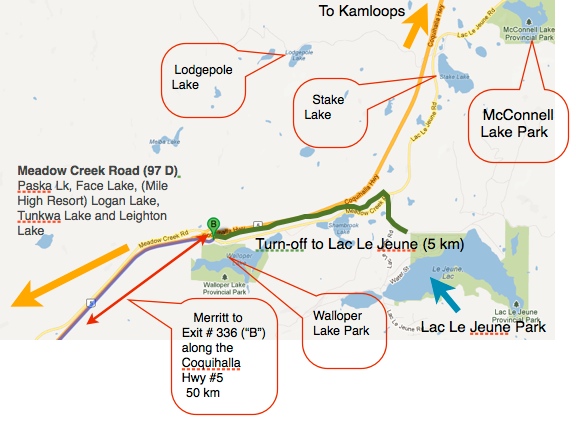 ---
Location & Access
Lat. 50 31'45.02" N / Long. 120 39'13.66" W (Paska Lake)
There is a paved road that goes to within .5 km of Mile High Resort on Face Lake.  
Driving from the Kamloops direction, you go approximately 27 km along the main, Coquhalla Freeway toward Merritt, B.C. Turn off to the right at Exit #366. (Lac Le Jeune / Logan Lake Exit)
Proceed along the main, paved road toward Logan Lake for approximately 8 km. Look for a turn and sign on your right. The most prominent sign is "Mile High Resort" which is on the same road.
Proceed 9 km and you will see the Paska Lake campground sign and lake on your right.
Proceed approximately another .2 km and you will come to an intersection.  Go straight (or right) to Mile High Resort.  Turn left and then look for a small Recreation sign board on your left.  (see photo below).   Proceed along this gravel road a few hundred feet and watch for a narrower road that turns off to your right to the Face Lake Recreation Site.  The distance is approximately 2.2 km.
This road is narrow with some ruts and potholes.  (especially if wet)  We would really recommend you check this road out BEFORE you tow a R.V. trailer, 5th wheel or motorhome down it.   There is a bit of a turn-a-round at the lake but - it is the drive in that may be more of an issue.  May even be a fallen tree to deal with.    (Carry a good axe, hand saw or better yet, a chain saw)
---
The blue arrow shows the location of the Face Lake Forest Service Recreation Site and boat launch.

Paska Lk. campground is shown in orange.
---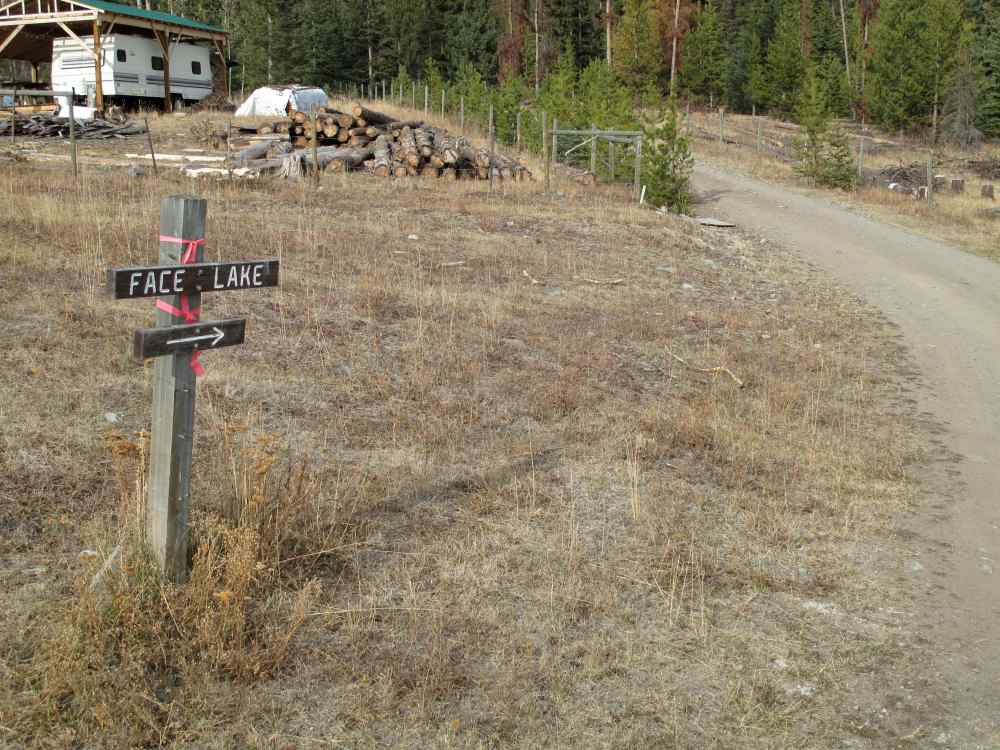 ---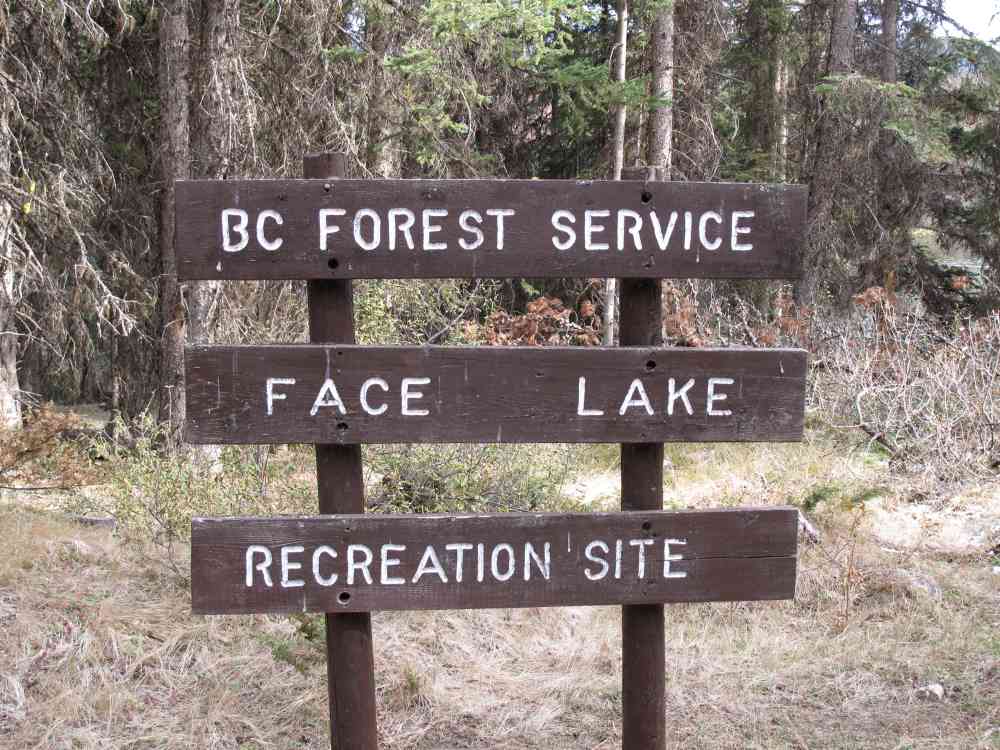 The recreation site is O.K. but not overly level or large. The boat launch areas can work but one must be careful. If you need to back you vehicle & boat down to the water's edge, you will probably want to have a 4 wheel drive for that.
---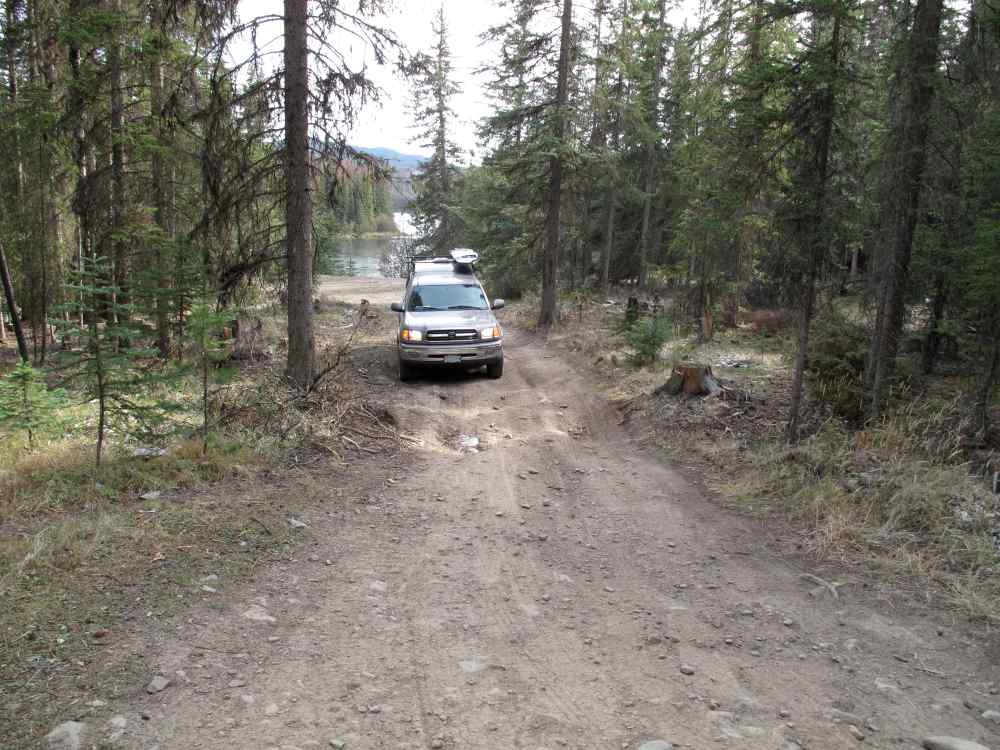 Above - This is typical of the road access in to the Face Lake Forest Service Recreation Site. Some places are narrower and have overhanging branches. There are minimal places to turn or pull over if you meet a vehicle coming the other way. If you are planning to pull a travel trailer, 5th wheel, or other RV you may wish to drive the road first without towing anything. We have seen truck and campers and they should be fine to take in.
Below - This photo gives a pretty good idea as to the general type of rec. site this is.  The view out over the lake is looking south easterly through a gap between a small island and the shore.  Mile High Resort would be way off through the gap and around to the right.
---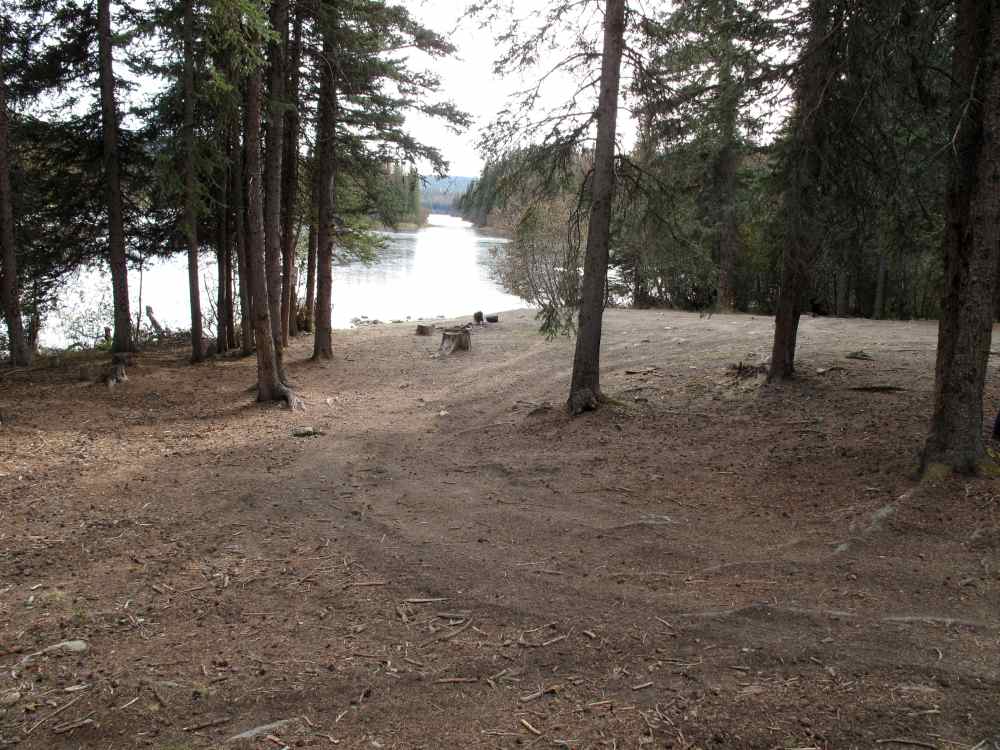 ---
Facilites & Services
Boat Launch - Yes, 4 X 4 recommended or a "carry" type of watercraft.  The use of a boat trailer is possible, but, again, with a 4 X 4.

Camping, RV's - Yes  There are not actual "designated" sites.  Just find a spot you like.

Cell Coverage - No
Firepits - no proper ones - please be smart when you build a fire pit
Garbage Collection - No (Please take all garbage home, including pieces of fishing line)
Outhouses - One
Resort - Yes, nearby.  Mile High Resort
---
Boat Launch
Note our comments above.  ... and see photos.
| | |
| --- | --- |
| Above - is a sort of a launch site.  Photo on the right is the same launch but looking back up the hill toward the "parking area".  Note the burnt firewood log in both photos. | |
---
| | |
| --- | --- |
| Above - looking downslope at the second launch area.  This one is more feasible for a vehicle to get closer to the water.  (with care) | Above - looking upslope from the launch on the left.  There is quite a drop-off of maybe a foot or two, at the green grass line and the gravel in the lower part of the photo. |
---
There is another place that is accessible nearby but it may be wetter and very shallow/mud.  That area was occupied by a group of people working on and trying to get a vehicle out of that area.  ... again, a " hand carry" type of watercraft would be fine.
---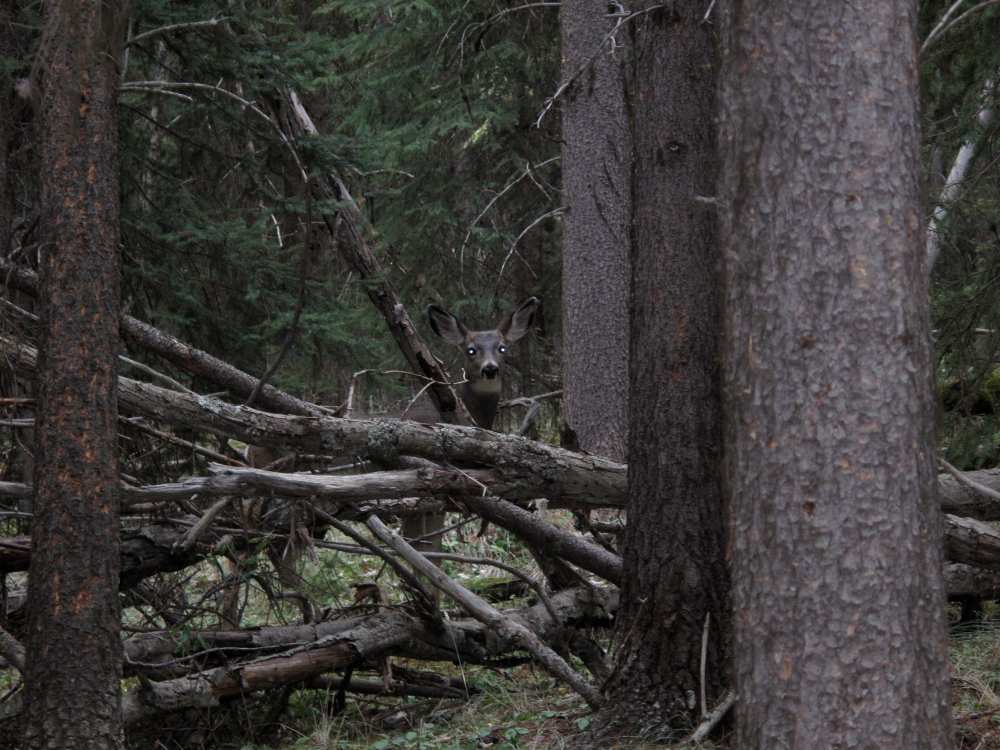 Can you see the deer "hiding' in the forest?  She is looking directly at "you".
---
Interactive B.C. Weather Map - Google Maps
---
---