Badger Lake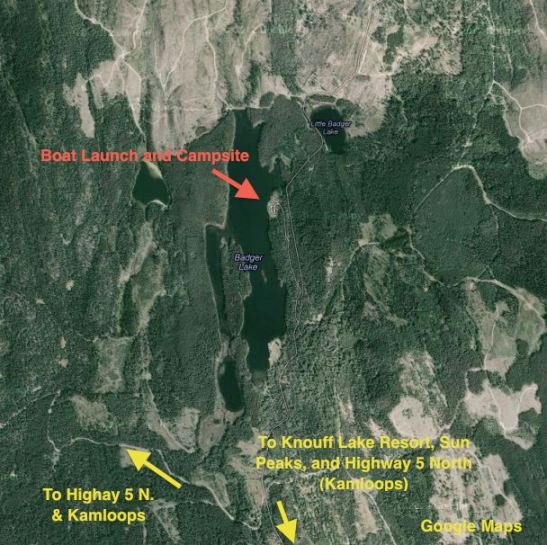 Larger Google Maps of area
Interactive B.C. Weather Map - Google Maps
---
Custom Search
---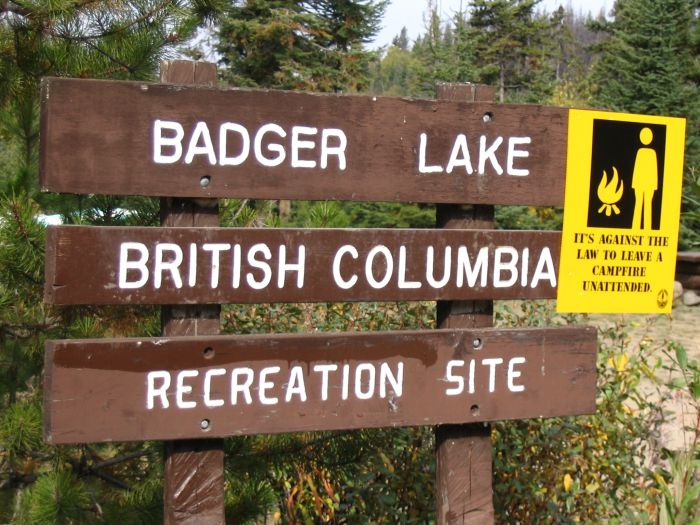 ---
---
This is a direct link to the British Columbia Fishing Regulations,
... and this is a direct link to obtain your B.C. Freshwater fishing licence online.
---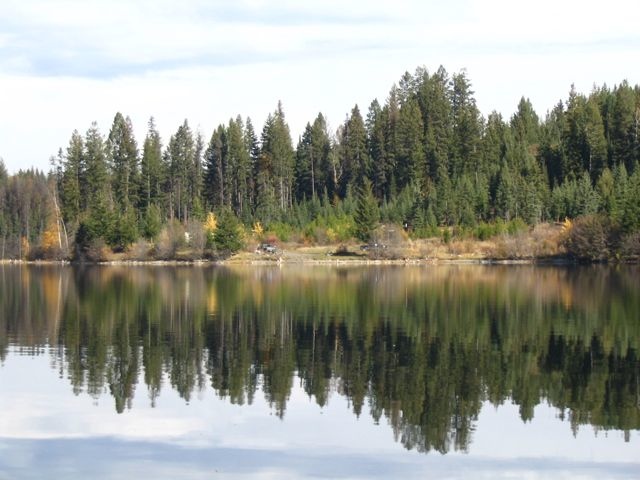 Badger Lake boat launch and campsite.
---
General Information
Badger Lake is a small, higher elevation (1090 m / 3570 ft) lake that can produce some nice size fish. A small government campground and boat launch located about 1/2 way along the north side of the lake. As is the case with a great many interior lakes, Badger Lake was damned for irrigation purposes many years ago. This lake may produce fish during most of the summer due to the higher elevation. We would not consider Badger Lake to be a good swimming lake.
---
Location & Access
Badger Lake is a more remote lake near the Sun Peaks Ski Resort region. There is more than one way to access this lake however the easiest is to follow the signs to Sun Peaks Ski Resort. Once you have turned off the paved road from Highway 5 (Yellowhead North of Kamloops) watch for a sign to Knouff Lake Resort on your left. Turn there (you will shortly be on gravel road) and drive to and past Knouff Lake Resort. We must mention that Knouff Lake and the resort are also excellent choices to stop at - see Knouff Lake.
Follow past the resort a few more kilometers. If the road past the resort is wet, it can be VERY slippery. It is not so muddy with deep ruts, as it is slippery.
You will come to a crossroad. Go straight across and soon you will see older signs showing you the way.
You travel alongside the lake almost to the far end. There is a nice Forest Service Recreation site there.
---
---
Facilities & Services
Boat Launch - Yes (good for boat trailer - may be a bit tough at lower water - Fall)

Camping / RVs - Yes - several units, some O.K.for travel trailers or 5th wheels

Cell Coverage - No

Firepits - Yes

Garbage Collection - No (Please take all garbage home, including pieces of fishing line)

Outhouses - Yes

Picnic Tables - No

Resort - No (Sun Peaks Resort is within a 20 min drive to the west)

Most recreation/camp sites on the smaller fishing lakes are "USER MAINTAINED" or very close to that. (maintenance contractors usually cannot check each lake and campsite on a daily basis) We ALL must look after these precious facilities.

Firewood is usually not available. Please, do not cut nearby trees for firewood.
---
Boat Launch
The boat launch is good for trailers but overall, it is a bit rocky.
When you first arrive into the camping area, and if you are pulling a boat trailer, stay to your left and go "clockwise" around the loop. The actual road to the launch goes to the lake on an angle and the designers did not make the turnout long enough for some truck and boat trailers. Best to stop at the top of the launch and get out to size it up. Some folks drive forward down the launch and then try to pull their boat trailer up over the bank back to the main road. We have seen this and watched as boat trailer lights were ripped off. Back down. If people have not been considerate and been careful how they park, it can get a bit "tight" for launching. The launch itself has a good solid gravel bottom. There are, however larger rocks nearby so there is not a lot of good space to beach your boat while getting ready to head out.
---
---
Spooney Lake may be accessed (with a canoe) through a connection creek which is directly across the lake from the boat launch. (see above photo - far side of lake "above engine propeller)
---
Facing south easterly looking toward private property on Badger Lake
---